Workshop:
Leading Lean Software Development
20 & 21 May 2010
Glasgow, Scotland
With Mary and Tom Poppendieck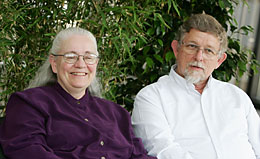 Workshop Summary
What

On their first visit to Scotland since 2006, American Lean Pioneers Mary and Tom Poppendieck offered this unique course for managers from software development companies and IT departments who are interested in starting or improving their Lean or Agile software development initiatives.

Mary and Tom consult with companies large and small across the world, and are excellent speakers who regularly top the bill at major international conferences and events.

This course is based on their latest book, Leading Lean Software Development: Results Are Not the Point, which teaches software leaders and team members exactly how to drive high-value change throughout a software organization— and make it stick.

Mary and Tom have pioneered the application of Lean Thinking to software development and documented their principles in three books:

Lean Software Development: An Agile Toolkit
Implementing Lean Software Development: From Concept to Cash
Leading Lean Software Development: Results Are Not the Point

When

20 & 21 May 2010

Presenters

Hosted by

Lean Data Solutions and Lean-Agile Partners

Where

Glasgow, Scotland

Audience

This program is designed for senior software development practitioners, team leads, and managers who are considering lean software development for their organizations. It is particularly useful to those who are looking for tools and practices that they can put to immediate use.
Course Description
The course taught:
How to look at your process as a system and identify waste.
What's wrong with software testing, and how to fix it.
How to frame risk and rethink scheduling so you can promise timescales with confidence.
How to increase the productivity of knowledge workers.
Tools for solving problems that everyone in the organization can use.
Beyond Budgeting principles, and how they affect system development.
The leadership roles that support the Lean framework.
Instructors
Mary Poppendieck
Mary Poppendieck started her career as a process control programmer, moved on to manage the IT department of a manufacturing plant, and then ended up in product development, where she was both a product champion and department manager.
Mary considered retirement in 1998, but instead found herself managing a government software project where she first encountered the word "waterfall." When Mary compared her experience in successful software and product development to the prevailing opinions about how to manage software projects, she decided the time had come for a new paradigm. She wrote the award-winning book, Lean Software Development: An Agile Toolkit, in 2003, to explain how the lean principles from manufacturing offer a better approach to software development.
Over the past six years, Mary has found retirement elusive as she lectures and teaches classes with her husband, Tom. Based on their on-going learning, they wrote a second book, Implementing Lean Software Development: From Concept to Cash, in 2006. A popular writer and speaker, Mary continues to bring fresh perspectives to the world of software development.
Tom Poppendieck
Tom Poppendieck has 25 years of experience in computing, including eight years of work with object technology. His modeling and mentoring skills are rooted in his experience as a physics professor. His early work was in IT infrastructure, product development, and manufacturing support, and evolved to consulting project assignments in healthcare, logistics, mortgage banking, and travel services.
Tom led the development of a world-class product data management practice for a major commercial avionics manufacturer that reduced design to production transition efforts from 6 months to 6 weeks. He also led the technical architecture team for very large national and international Baan and SAP implementations.
Tom Poppendieck is an enterprise analyst and architect, and an agile process mentor. He focuses on identifying real business value and enabling product teams to realize that value. Tom specializes in understanding customer processes and in effective collaboration of customer, development, and support specialists, to maximize development efficiency, system flexibility, and business value.
Tom is co-author of the book, Lean Software Development: An Agile Toolkit, published in 2003, and its sequel, Implementing Lean Software Development: From Concept to Cash, published in 2006.