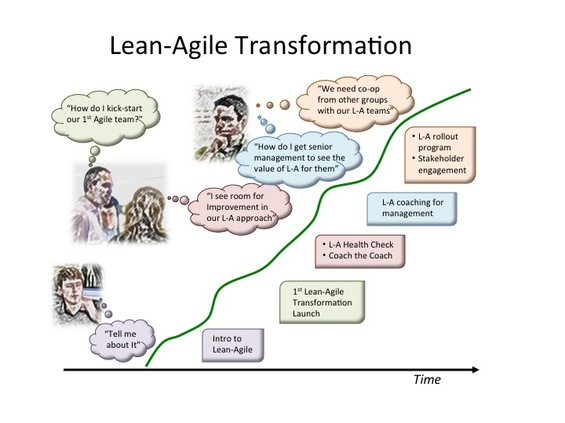 Lean-Agile Partners How We Work With You

Our goal is to establish a Lean-Agile practice in your company that you can sustain.

All our engagements are custom designed to meet the team, group and enterprise strategic and tactical goals. We use a variety of methods including:

- Training Courses. These are targeted at those new to Lean-Agile practices. Often these courses are coupled with other methods at the engagement initiation to ensure that everyone involved is at the same basic Lean-Agile literacy level.

- Workshops. Your working projects are a significant element of our workshops. Attendees are working with their current project material, both applying Lean-Agile practices and making continued progress on their assigned projects.

- Coaching. At the center of our delivery model is coaching at the individual, team, group and enterprise level. As your Lean-Agile adoption progresses, the coach-the-coach phase is introduced to meet the goal of your own sustainable Lean-Agile program.

Our combined, industry leading experience in high tech and regulated industries development, operations and business give Lean-Agile Partners the broadest base to offer successful cross enterprise programs.


Our Program Approach - Customized for You

The Lean-Agile Partners program is organized in phases. Each phase aims at a measurable improvement; when a phase is complete, the client can choose when to start the next phase. After the first phase, each builds on observations and learning from the previous phase.

Our goal is to help you create a lasting, sustainable internally-coached Lean-Agile transformation in your organization.

In the initial phase, Lean-Agile Partners meets with appropriate members of your organization to understand your current process, to determine where choke points exist, and to suggest how a properly crafted Agile approach could improve your value flow and end-product quality.
Specific content of further phases are then designed around the information shared in this
phase.


The Program Phases

1. Assess and Target.

One or more Discovery activities identify the greatest opportunities to help you deliver high quality, high customer value solutions. Examples: LAP Codebase Audit; informational webinar on Agile for Regulatory Affairs, on Agile Estimating, etc.; Storycrafting Workshop or other short courses. Discovery activities deliver value in their own right while helping us and you know where to aim our efforts – a win-win!

2. Engage purposefully.

The next step requires LAP coaches to gain the trust of your teams, and also to confirm their own direct understanding of the situation. Nothing is more effective than on-site presence. The figure shows on-site coaching effort for introducing Lean-Agile practices to a team that has no prior experience with it. The duration scale may be a few weeks to a few months, depending on factors that would be quantified during Discovery.

The intensity and duration of on-site coaching is the main factor in costs and you have substantial control over it. Among the Engage Activities are:

A.) Create understanding and motivation for Agile adoption, and provide a custom program of training and practices so participants know what to do and how to do it.

B.) Coach your teams and stakeholders, allowing them to learn as they go, with appropriate mentoring, practice improvements and help with problem solving.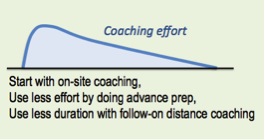 3. Follow-on and Support: multiply the return on your coaching investment!

As our on-site work tapers down, the teams and associated groups are confident in the new practices. They've mastered the skills necessary for here and now, and have started to be able to apply "lean mindset" when analyzing new opportunities or new problems. It is vital to reinforce and deepen their understanding. Remote support by people who know your context is perfect for this! Whether it's remote pairing to show your developers new ways to automate tests, or a phone session to help your VP of Marketing analyze an idea for better customer engagement – LAP has the depth in all the key business areas to cover it.

4. Repeat and Reinforce

After you've done the above steps for one area of your organization, you can repeat for others. Demonstrated success is your best tool for powering Lean-Agile adoption throughout your organization.

Booster activities to ensure the assimilation of the new methods and practices. Our "Coach the Coach" program helps your people to transmit the new techniques throughout your organization.
Our Fee Structure

Lean-Agile Partners works closely with you to fit our activities to your budget and timeline.

The fee structure depends on:
- number of cross function teams,
- number of Lean-Agile Partners specialists
- the amount of on-site time

A Program Sampler

Agile Multiplier Principle (AMP) – This program is the platform for creating a product centric custom roll out of an enterprise-wide Lean-Agile adoption campaign.

Manager's Agile Dashboard (MAD) – Working with the client this program framework identifies the key metrics and team behaviors that best give management the status of their Lean-Agile projects.

ACTIIVE – This program takes the 7 essential element of a successful Lean-Agile adoption campaign and adapts them to the culture of the enterprise.

- Alignment
- Continuous Synchronous Communication
- Transparency
- Iteration
- Improvement
- Value
- Efficiency

PRO – The Probability, Risks, Obstacles is a risk assessment exercise with the goal of increasing the probability of eliminating or navigating over obstacles

Lean-Agile Fluency – This scale is a means to monitor individual team member's Lean-Agile assimilation from introduction to mastery.

Lean-Agile Project Launch – This is a package containing a number of training and workshop modules.

- Project Initiation
- Release Planning
- Working Agreements
- Backlog Management
- Story Crafting
- Planning Poker
- Defect Prevention
- Consensus Decision Making
- Visual Workspace
- Planning Bucket
- Task Estimation and Tracking
- Impact Mapping

Specialists Programs

- Lean-Agile for Regulated Industries
o FDA Medical Devices
- Engineering Practices:
o TDD
o Continuous Integration
o Refactoring
- Business Practices:
o Product Lifecycle & Portfolio Management in a Lean-Agile World
o The MCPESTEL Engine (Market, Competition, Political, Economic, Social, Technology, Environmental and Legal/Regulatory)